VR goggles against drug crime
The VR glasses project 'Coco' (Cocaine Collectors) starts as a pilot at schools in Rotterdam-Charlois. In the teaching programme, young people experience how they can be recruited as traffickers. Rotterdam thus warns young people of the consequences and dangers of drug crime. The municipality and the police hope that in this way young people will learn to recognise the false promise of 'making quick money'.
According to the Center against Child Trafficking and Human Trafficking (CKM), the number of victims of criminal exploitation is increasing in Rotterdam. Socalled 'extractors' in particular pose a major problem. These are young people who empty containers with drugs for a fee. Dozens of the ejectors who have been arrested in recent years came from Charlois. And those extortionists are getting younger: this year a 14-year-old boy was arrested.
Realistic and intense
Young people with VR glasses on their heads crisscross the auditorium of De Hef vocational college. A boy puts his hands in the air when he is (virtually) arrested. Young people can make different choices in the VR experience. If they come into contact with dangerous recruiters, they really can't go back. 'I was standing in a square with friends. A man who was in an expensive car asked me if I wanted to earn money quickly and easily. He showed a lot of money', says student Day. "Suddenly I was pressured with a firearm in the street. Someone standing in front of you with a gun is not nothing. It was very realistic. Although I already knew that making money quickly is a bad choice, I can now put myself in the shoes of victims who are recruited by criminals.'
Resistance to crime
After the VR experience, there is room during the three-hour lesson program to share experiences and feelings. The project is a collaboration between the municipality of Rotterdam, the police, Stichting Jongerenwerk Op Zuid (JOZ), Bureau Sketch, NPRZ, Stichting Citysteward and the schools involved. 'Everyone is doing everything they can to keep our young people from Rotterdam from living in crime,' says Faye van der Plas-de Haan (project leader of the Uithalers' Problem). 'With a good analysis after the test, we can also offer this teaching program at other schools.'
The harbour and the city
Waste collectors are not only a major problem in the port, but also in the neighborhoods of Rotterdam. Young people are not walking around in the harbour. The recruitment takes place in residential areas, at schools and via social media. If the removal fails once, there will be consequences. Youth agent Reinier de Groen: 'And those consequences are not only for the swindler and his family, but for the entire environment. Think explosions and shootings. At night, but also in broad daylight.' For example, pulling out drugs is a lot less innocent than it may seem. 'Shootings and explosions are often caused by drug smuggling,' says Reinier. 'We should not shy away from this, but try to disrupt the process as early as possible and on as many fronts as possible.'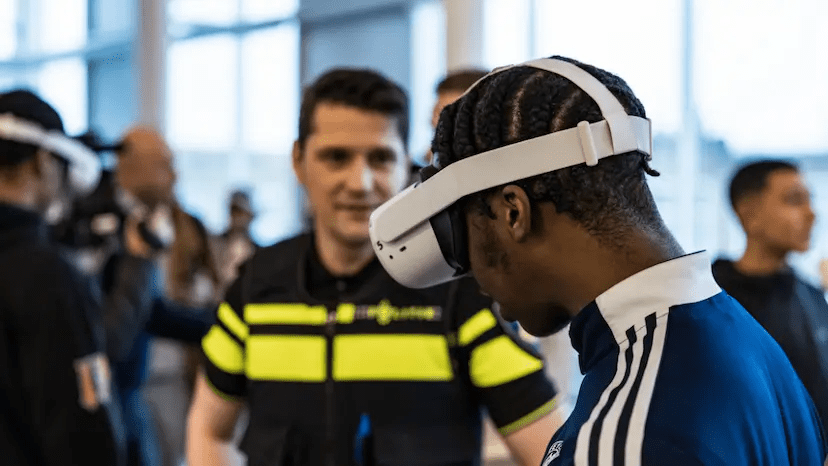 Young people test the VR glasses project 'Coco' (Cocaine Collectors).
Photo: Rotterdam police
subscribe to be the first to receive icarus news!
Know what we've been up to and the latest on the European urban security frame.