New tool in the making: "Ask for Angela" by city of Nice
In Icarus project, the city of Nice is now implementing the "Ask for Angela" tool in a pilot zone of the town center. This tool consists of a network of solidarity partners who undertake to welcome anyone in a situation of harassment or insecurity in the public space, regardless of their age, gender or condition, day and night. Thanks to the code "Où est Angela?" » and the logo displayed visibly by the partner establishments, people can request support and find a fallback solution or help, without judgement. This system aims to provide a fallback solution and help victims of sexist and sexual harassment in the public space.
When implementing the "Ask for Angela" tool, the city of Nice had to face new issues as many storekeepers were reluctant to assists a 3-hour victim support training session. Brainstorming sessions were fruitless as a virtual or a paper-based training would not meet the objective of setting up a network of shops committed to reduce street harassment.
The city of Nice finally set up a shorter version of the training: a 90 minutes face-to-face session that will be experimented in real life the 22nd of June at 2:30 PM in the "Maison d'Accueil des Victimes" created by the city of Nice in 2015. This training will be provided by the Prevention Department of the city with the support of representatives from the Municipal Police. This will also be the opportunity to officially launch the "Ask for Angela" campaign in the city.
VR goggles against drug crime
The VR glasses project 'Coco' (Cocaine Collectors) starts as a pilot at schools in Rotterdam-Charlois. In the teaching programme, young people experience how they can be recruited as traffickers. Rotterdam thus warns young people of the consequences and dangers of drug crime. The municipality and the police hope that in this way young people will learn to recognise the false promise of 'making quick money'.
According to the Center against Child Trafficking and Human Trafficking (CKM), the number of victims of criminal exploitation is increasing in Rotterdam. Socalled 'extractors' in particular pose a major problem. These are young people who empty containers with drugs for a fee. Dozens of the ejectors who have been arrested in recent years came from Charlois. And those extortionists are getting younger: this year a 14-year-old boy was arrested.
Realistic and intense
Young people with VR glasses on their heads crisscross the auditorium of De Hef vocational college. A boy puts his hands in the air when he is (virtually) arrested. Young people can make different choices in the VR experience. If they come into contact with dangerous recruiters, they really can't go back. 'I was standing in a square with friends. A man who was in an expensive car asked me if I wanted to earn money quickly and easily. He showed a lot of money', says student Day. "Suddenly I was pressured with a firearm in the street. Someone standing in front of you with a gun is not nothing. It was very realistic. Although I already knew that making money quickly is a bad choice, I can now put myself in the shoes of victims who are recruited by criminals.'
Resistance to crime
After the VR experience, there is room during the three-hour lesson program to share experiences and feelings. The project is a collaboration between the municipality of Rotterdam, the police, Stichting Jongerenwerk Op Zuid (JOZ), Bureau Sketch, NPRZ, Stichting Citysteward and the schools involved. 'Everyone is doing everything they can to keep our young people from Rotterdam from living in crime,' says Faye van der Plas-de Haan (project leader of the Uithalers' Problem). 'With a good analysis after the test, we can also offer this teaching program at other schools.'
The harbour and the city
Waste collectors are not only a major problem in the port, but also in the neighborhoods of Rotterdam. Young people are not walking around in the harbour. The recruitment takes place in residential areas, at schools and via social media. If the removal fails once, there will be consequences. Youth agent Reinier de Groen: 'And those consequences are not only for the swindler and his family, but for the entire environment. Think explosions and shootings. At night, but also in broad daylight.' For example, pulling out drugs is a lot less innocent than it may seem. 'Shootings and explosions are often caused by drug smuggling,' says Reinier. 'We should not shy away from this, but try to disrupt the process as early as possible and on as many fronts as possible.'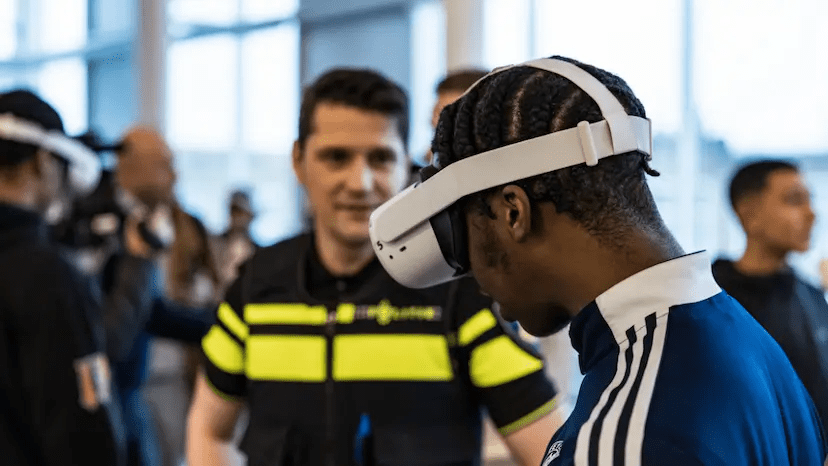 Young people test the VR glasses project 'Coco' (Cocaine Collectors).
Photo: Rotterdam police
Obtaining Feedback: A Key Component in Successful Stakeholder Participation
The activities in work package 3 of the IcARUS project are currently focused on tool development. This summer, the cities will present the final version of the developed tools to their civil society partners. In the coming months, tool validation workshops will take place in Lisbon, Nice, Riga, Rotterdam, Stuttgart, Turin. These validation workshops conclude the participatory development phase of the tools and should enable the cities to engage with their stakeholders and communities of interest. The collected feedback will be used in two ways: first, to generally validate the tool and inform the cities' security strategies and second, for developing criteria for the implementation of the tool. Therefore, these meetings also represent a transition to the tool demonstration phase.
In a joint effort with the University of Salford, the Swiss research institute Idiap, EFUS, and other IcARUS partners, the six cities are each developing a tool in the priority areas of their choice: Lisbon and Turin on preventing juvenile delinquency, Stuttgart on preventing radicalization leading to violent extremism, Riga and Nice on designing and managing safe public spaces, and Rotterdam on preventing and reducing trafficking and organized crime. However, the collaborative approach in tool development is not limited to the IcARUS partners. Each city organized a local kick-off workshop in spring/summer 2022 to which a number of municipal and, most importantly, civil society stakeholders were invited. The goal was to discuss the respective security challenge in the city in more detail and to develop initial proposals for solutions following a design thinking methodology. The results of the workshops laid a first basis, and since then, the cities have been in a process of involving the partners in the tool development. Each city has done this in a different manner according to their needs, pace of progress, and possibilities, such as meetings with individual partners, group discussions, or events to present the design brief for the tool.
The preparation of the upcoming tool validation workshops in each city focuses on obtaining feedback from the participants. Together with the city representatives, Camino prepares these workshops and offers support in the form of training sessions on workshop facilitation. Apart from developing a workshop concept, the practical implementation of the events are planned, strategies for dealing with different forms of feedback are developed and tested.
Obtaining feedback is a key component in successful stakeholder participation and for the further collaboration with these partners in the area of urban security. Obtaining valuable feedback on the implementation of the tool is a necessary step to link the development phase to the demonstration phase within the project. In the IcARUS project, feedback is used for three aims:
- validating the tool
- developing criteria for implementation
- informing the cities' security strategies.
Dealing with feedback was therefore a central part of the first training session organized by Camino in cooperation with the citizen empowerment organisation MakeSense and the cities. A key takeaway of this first session was: a serious feedback culture does not mean that all suggestions and requests can be met, whether it is about validating the tool or taking it into account in the security strategy. Therefore, it is important for workshop facilitators to be clear and transparent about what will be done with the feedback, what kind of feedback can still be taken into account for the implementation, and how feedback can inform other aspects of the municipal security strategy.
Even if feedback is sought for the validation of the tool, it is crucial that feedback is not collected pro forma, but that it feeds into the further process, e.g. implementation or more generally into the development of the cities' security concepts. Otherwise, feedback as an approach to participation may be watered down to a form of "particitainment" (Selle 2011):
"Particitainment" is becoming widespread. Instead of substantial debate in the context of a lively local democracy, citizen participation is merely staged, it only suggests participation in opinion-forming and decision-making and can't deliver on its promise. In fact, many of the results of these processes have no significant influence on urban development and do not change established dynamics in local politics and administration. More importantly: The inflationary staging of ineffective participation processes risks further promoting disenchantment with politics and planning processes and political apathy." (Selle 2011, p. 3, own translation)
Ineffective participation may thus lead to a feeling of frustration and rejection of the whole participatory process. Concretely, within the context of the IcARUS project, ineffective participation might diminish acceptance for the tools developed by the project and be a burden for future civil society involvement. If participants had the sense that their opinion was only formally requested, they might end up feeling that their time was wasted. This issue should be considered, as the time factor is one of the barriers to participation in such settings.
However, if feedback on participants' feelings, opinions and wishes is taken seriously, it is then possible to learn from their experience and encourage engagement and cooperation. This can contribute to strengthening a culture of citizen participation. It is also a positive approach to criticism and a productive way of dealing with failure or disappointment, which in turn has a positive effect on the resilience of cities and on their respective security strategies. This is what the tool validation workshops, and the preparatory processes organised in their run-up, will seek to achieve.
The participation process varies greatly in the 6 cities, which is not surprising. Participative cooperation must be established locally and in view of a specific context, and that takes time.
In addition to these considerations on the importance of communication within the tool validation workshops, another important topic of the first training session was to deal with emotions using the "Emotion Monster Cards". This was useful for finding out how the city representatives feel about the upcoming workshops and what their expectations are. Next to feeling pressure to meet all of the expectations of their partners or fearing unpredictable obstacles, they are also excited to enter this phase, hoping for constructive feedback. Furthermore, through the participatory approach of tool development in the IcARUS project, the cities seek to strengthen their relationship with their local partners and to build new sustainable collaborations.
"Time and again, experts who oversee citizen participation in various communities, make a puzzling discovery: In one city or district, their offer of participation is met with a lack of interest or tiresome discussions with only a handful of the same 'regulars'. In the next city or district however, the room is full, the discussions are lively and constructive and lead to useful results for the further planning process. How can this be explained? There are various hypotheses for the causes of these local differences. It is clear that it is not due to social structures (the different experiences are also made in neighbourhoods or cities with similar constituencies), nor is it due to the content or the manner of planning. It is also clear that this question needs to be addressed more systematically. Nevertheless, one aspect is already clear: communication skills and interest in exchange require (positive) experiences. We are thus moving in a circular, or rather spiralled, processes. Out of experience with successful exchange grows a willingness and an interest in further communication." 1 (Selle 2011 , p. 16, own translation)
1Selle, Klaus: Particitainment. Oder beteiligen wir uns zu Tode? PNDonline III/2011, www.planung-neu-denken.de
Design Thinking out of the box to tackle complex urban problems
The IcARUS project is using the Design Thinking methodology on the development of tools which respond to local urban security challenges because it is proven to foster more innovative, citizen-friendly solutions to complex urban problems. One of the world's foremost experts on Design Thinking, Professor Kees Dorst recently met with IcARUS partners during a web conference organised by Efus.
First conceived in the 1960s by designers seeking to better match customers' needs and expectations when creating new products, the Design Thinking methodology is now used by private sector organisations all over the world. More recently, it has also gained ground in the public realm, inspiring innovative approaches to policy making.
A people-centred approach
The core principle of Design Thinking is to approach issues from the perspective of users. Applied to urban development and urban security, it means empathising with people and how they live and use their city, rather than through the mental construct that is, say, 'social exclusion', or 'unemployment rates'. Simplified in the extreme, the idea is to go and listen to the people on the ground rather than being fixed on data. This empathetic approach often leads to discovering factors that do not appear in hard data, which in turn can inspire innovative solutions based on real life.
Fostering innovative local responses
Such a creative approach adapted to local urban security policy-making and can help local authorities to improve problem definition and understanding of how citizens experience security, which is why IcARUS seeks to disseminate it among European local authorities. Titled How can the design thinking contribute to a more strategic approach to urban security?, the web conference organised by Efus on 28 February, gave the IcARUS project's partner cities a unique occasion to discuss 'live' with world-renowned expert on Design Thinking Professor Kees Dorst, who is Director of the Designing Out Crime Research Centre at the University of Technology Sydney (UTS) (Australia).
Complex, dynamic and networked problems
In today's globalised age, complex problems abound – from tensions in urban hotspots through to radicalisation, to the need to care for an ageing population. Drawing on his years of research into design practice and design thinking, Professor Dorst has developed a methodology he calls 'frame creation'. In this clear, nine-step process, he demonstrates a method that first generates a deeper understanding of these difficult problems, and then reframes them in a way that leads to new solutions that work.
"Today's problems are so complex, dynamic, and networked that they seem impervious to solution," he says. "The trusted routines just don't work anymore. These new types of problems require a completely different response."1
1 This quote and the section sub-titled Complex, globalised problems is taken from an article published on University of Technology Sydney's website, and signed by Jacqueline Middleton: https://www.uts.edu.au/about/faculty-design-architecture-and-building/news/new-thinking-resolves-complex-problems-design
Case studies in Sydney
In Australia, UTS and Professor Dorst have worked with public authorities to solve some of Sydney's urban problems. During the web conference, he highlighted the case of the Kings Cross nightlife neighbourhood.
In the early 2010s, it had a bad reputation for alcohol-fuelled violence. The city authorities and police took a repressive response, including 'lockout' laws restricting alcohol sales. This led to the closure of some local businesses but didn't stop antisocial behaviour and more serious problems.
The city thus decided to partner up with UTS' Design Out Crime Centre, which took a radically different approach. Using the Design Thinking methodology, they looked at who was partying in Kings Cross at night: just well-meaning young people who could be anybody's children. The problem was that when thousands of them all got out of bars and nightclub in the wee hours of the night, they had no transport back home, nowhere to sit and sober up, and nowhere to relieve themselves or charge their phone.
Like a music festival
The solution proposed was to treat the whole Kings Cross neighbourhood like a music festival, i.e., a place where there are large number of intoxicated people, but with more amenities and less incidents. The core aspects of festival management are Distraction (keeping crowds happy) and Extraction (getting them out).
Based on this analysis, transport services were improved to get people home faster, thus the area less crowded, and thus with less risks of violence flare-ups. Safe spaces manned by volunteers were set up where people could take a break and charge their batteries (both figuratively and literally), and where women could take refuge from sexual harassment. Clear signage was introduced in the whole neighbourhood (signs on the pavement and through lighting) to gently 'nudge' partygoers towards the exits and safe areas.
This approach contributed to significantly pacify Kings Cross for the enjoyment of both partygoers and local residents. It proved so successful that it inspired Sydney's 17-year plan (2013-2030) to encourage nightlife as an economic opportunity, called OPEN Sydney.
Co-producing concrete solutions
The IcARUS six partner cities – Lisbon (Portugal), Nice (France), Riga (Latvia), Rotterdam (Netherlands), Stuttgart (Germany) and Turin (Italy) – are currently working on developing pilot projects based on Design Thinking to tackle issues they have identified as a priority in their local context.
Even though each city has distinct issues and characteristics, meaning that there are no fit-for-all solutions, the experience of Sydney with Design Thinking to solve their nightlife problem can be a source of inspiration. It shows how listening to citizens and thinking out of the box can lead to solutions that really work and don't need to be overly expensive or complex.
> Read the IcARUS factsheet on the Design Thinking methodology
> Kees Dorst's book, Frame Innovation – Create new thinking by design, is published by MIT Press
A Critical Analysis of International and National Legal Frameworks for Urban Security Policies
IcARUS is an EU-funded project that aims to identify innovative ways to implement urban security policies by addressing barriers to their implementation. The project focuses on four priority areas: preventing juvenile delinquency, preventing trafficking and organised crime, managing and designing safe public spaces, and preventing radicalisation leading to violent extremism. To clearly delimit the limits and possibilities of the IcARUS outcomes in ethical and legal terms, Plus Ethics has conducted a legal analysis of the international and European legal frameworks in the sector of crime prevention and urban security, as well as the national legal frameworks of six cities: Nice, Rotterdam, Riga, Stuttgart, Turin, and Lisbon.
To achieve the project's objectives, the legal report (D6.1) adopted a methodological approach based on the analysis of regulatory frameworks at both the international and national levels. The project analysed the legal instruments available to the law enforcement agencies (LEAs) or municipalities in each of the six cities. The analysis focused on the relevant guidelines, recommendations, resolutions, directives, declarations, rules, protocols, conventions, proposals, opinions, and international codes at the international level. At the national level, the analysis focused on the constitution, criminal code, specific legislation, and other relevant instruments. To identify the specific urban security challenges faced by each city, an online questionnaire was distributed to representatives of each city.
Findings
Firstly, the analysis of the international legal frameworks at the Council of Europe, United Nations, and European Union levels revealed that the most relevant instruments for each of the priority areas are as follows (in quantity of instruments found):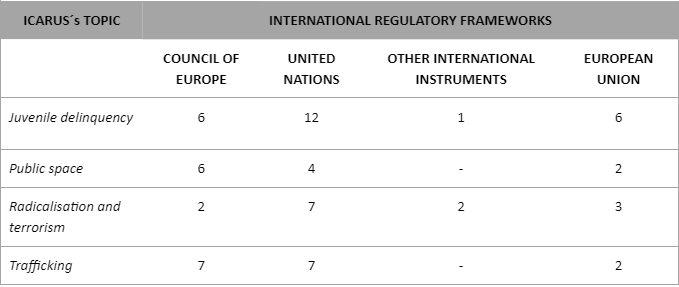 On the other hand, the IcARUS project has collaborated with law enforcement agencies and municipalities in Nice, Rotterdam, Riga, Turin, and Lisbon to analyse legal tools and challenges in preventing conflict and negative uses of public space. Each city has identified its specific concerns related to public safety and urban security.
Nice is primarily concerned about mass gatherings, incivilities, and increased aggressions against law enforcement officers, and has enacted legislative and regulatory measures to punish antisocial and criminal behaviours in public spaces.
Rotterdam is also focused on the prevention of violent demonstrations, incivilities, and criminal activity in the online world, and has embraced the idea of administrative orders providing mayors with an instrument to sanction infringements on municipal codes of prohibitions.
Riga is concerned about public order and public security in public spaces, with a particular interest in prevention of violent demonstrations, mass gatherings and crowds, incivilities, aggression against law enforcement, and protection of public spaces against modern technologies. Latvia has developed strong emphasis on supporting human resilience, with many law enforcement agencies working to guarantee the safety of individuals and society.
Stuttgart is concerned about radicalisation and terrorism in relation to urban security, with a focus on religious radicalisation, hate speech, and discrimination towards certain groups. Germany has developed comprehensive legislation on this topic, with a recent focus on the problems that hate speech is causing for citizens, due to the rise of right-wing extremism.
Turin is concerned about juvenile delinquency and crimes in public spaces committed by young people, with a specific interest in the phenomenon of "Baby Gangs." The tools to be applied for urban security in this context should be oriented towards prevention and reintegration of delinquency by young people and not towards harsh punishment.
Lisbon is concerned about crime committed in public spaces, in particular the problem of drug use on the streets. While most of the international and supranational legislation on the subject is directly related to drug trafficking itself, there is a lack of extensive legislative development at the national level to alleviate this problem, and the little legislation that does exist is not enforced by local authorities.
To study these topics, the national legal frameworks of the six cities were analyzed to assess the legal options and limitations of various legal tools, including:
Nice: the Constitution, Criminal Code, and specific laws
Rotterdam: the Constitution, Municipalities Act, Public Order Act, Police Act, and specific laws
Riga: the Constitution, Criminal Law, Law on Police, Law on State Border, and specific laws
Stuttgart: the Constitution, Criminal Code, Police Act, and specific laws
Turin: the Constitution, Juvenile Code, and specific laws
Lisbon: the Constitution, Penal Code, Municipalities Code, and specific laws
While each city has specific tools, mechanisms and legislation in place to address their urban security concerns, the main problem is the lack of initiative to implement legal recommendations or indications at the local level. National power should follow up and reinforce local authorities to implement action and prevention plans for crimes of concern to the actors.
Conclusion
The IcARUS legal report provides a critical analysis of the international and national legal frameworks for urban security policies in the six cities involved in the project. The analysis identified the most relevant instruments for each of the priority areas and the legal instruments available to the LEAs or municipalities in each city. The analysis also revealed the specific urban security challenges faced by each city and the legal instruments that are relevant for addressing these challenges. The report is expected to provide a comprehensive understanding of the required legal frameworks for preventive actions at the local level and the policies that are currently in place to prevent further criminal activities.
Including the gender perspective into urban security policies and practices
Including the gender perspective into urban security policies and practices
How to make cities safer for women, and how to integrate the gender perspective into all aspects of urban security policies and practices? This was the theme of a conference organised (online) by Efus for the IcARUS project, the first of a series of five.
Main takeaways
create bonds between women/girls and men/boys and a sense of shared community
think small: local, small-scale projects have a big impact
include the perspective of women in data-collection tools and surveys
The idea that cities should be gender inclusive, i.e., take into account the specific needs of women, but also minority genders, is gaining traction all over the world. The World Bank and the United Nations recently published reports on this issue, and many universities, such as the London School of Economics, and researchers such as the renowned University of Oxford economist Kate Raworth, to name a few, are working on it.
Among all the aspects of urban life and development that affect women differently than men, security is one of the most prominent. All over the world, women and people from minority genders feel unsafe in some urban places because of the way they are designed and managed. For example, women are more likely to experience sexual harassment and gender-based violence, while men are more vulnerable to violence and robbery.
Integrating gender into urban security policies
This means that urban security strategies, policies and interventions, as well as their evaluation, should include the gender perspective in order to benefit both women and men and not reinforce inequalities. But how? This was the theme of the first of a series of five web conferences organised by Efus for the IcARUS project between January and September this year.
Delivered on 11 January, the conference was presented by Barbara Holtmann, Director of Fixed, a non-governmental "feminist organisation with a strong focus on women's equity and safety" (in their own words) based in Johannesburg, South Africa. She is also an associate expert of Efus' Women in Cities Initiative (WICI) and a member of the IcARUS Expert Advisory Board.
Rather than an ex-cathedra presentation, it was organised as a questions and answers session with representatives of five IcARUS partner cities: Lisbon, Nice, Riga, Rotterdam, and Stuttgart. (The sixth partner city, Turin, could not be represented at this event).
Lisbon: how to engage young people?
Within IcARUS, Lisbon (Portugal) has chosen to work on the issue of juvenile delinquency and has developed a 12-week programme to engage young people aged between 11 and 19 in community safety. How can they also engage them with the gender issue?
"Even though boys and men are the main cause of insecurity for girls and women, it is important to create a bond between them, a sense of shared community and empathy," suggested Barbara Holtmann. "To do so, we can first ask girls and boys what security means for them. Also, we must look at what young boys can gain from the empowerment of girls, and how girls can be more empowered."
Nice: what tools to reduce feelings of insecurity?
As part of IcARUS, the city of Nice (France) is working on how to improve feelings of insecurity. Research has shown that one factor in such perceptions is the feeling of being cut off from the rest of the city and isolated. At night, women feel more insecure than men. Are there tools to counter such perceptions?
One interesting avenue is to encourage small, very local projects by women, said Barbara Holtmann. She gave the example of a city in India that gave young local women a disused plot surrounded by buildings, which they converted into a thriving garden.
There are increasing numbers of mobile apps that help women find shelter and assistance when they feel threatened, in particular at night, such as Ask for Angela or Umay in France. "But the important thing here is that such complementary tools be integrated into a more global strategy against gender-based violence."
"What women don't do in a city because they fear for their safety doesn't appear in crime statistics, but it's an interesting way of creating an accountability framework for a municipality." Barbara Holtmann, Director, Fixed and Associate expert, Efus' WICI
Riga: improving data on feelings of insecurity
The Riga (Latvia) municipal police wants to better understand citizens' feelings of insecurity and improve the quality of data they collect. The municipality is thus revamping its data collection system and will regularly gather feedback from citizens.
Barbara Holtmann suggested including the perspective of women in such tools. Also, an interesting point of view is to identify what makes them feel safe, rather than unsafe. She gave the example of the India-developed mobile application Safetipin, which maps out cities according to women-users' safety ratings on issues such as public lighting, access, pavement and attendance.
"What women don't do in a city because they fear for their safety doesn't appear in crime statistics, but it's an interesting way of creating an accountability framework for the municipality. Very often, crimes are the result of things that are beyond the mandate of cities, but here they can actually do something to create an environment conducive to women participating more fully and feeling less insecure."
Rotterdam: gender and organised crime
One of the most pressing issues facing Rotterdam is organised crime, and the municipality has been working since 2014 on prevention programmes in an industrial park situated on the Spaanse Polder. The municipality is conducting different types of actions there and has set up processes to exchange and work with local stakeholders to prevent the spreading of illegal trafficking and business. How to link the issue of gender with preventing and fighting organised crime?
"The problem here is that we're dealing with a business area, not a living one. However, women are also impacted by organised crime, not only as victims but also as family members of people who are engaged in it. So, one line of work is to communicate with mothers, sisters, daughters about the impact of organised crime on their lives, even if they're not involved with it. This enables you to create another sphere of influence."
Stuttgart: finding common ground
As part of IcARUS, the city of Stuttgart is working on the prevention of radicalisation leading to violent extremism, in particular among young people. More broadly, the city seeks to promote a sense of belonging to society among the young. How to also involve them in achieving gender equality?Amongst other initiatives, Stuttgart is contemplating proposing self-defence courses for girls.
"The problem is that if we train girls to defend themselves, we avoid tackling the main issue, which is that they shouldn't have to defend themselves in the first place. The real question is rather how to make boys and girls feel they are part of the same group. What's really important in gender issues is commonalities, rather than focusing on the difference." > More information on IcARUS on Efus website
Conclusion
Gender is a crucial cross-cutting issue for IcARUS, and it will continue to be a significant area of focus in the future. With the introduction of WICI, Efus has expanded its expertise and support for gender-based approaches, methods, and tools, and is now providing its members with guidance on how cities and regions can better promote the inclusion of women in local security forces. As we move forward, it is important to prioritize gender-based perspectives and initiatives in the field of security to ensure that our communities are safe and inclusive for all.
IcARUS Consultative Committee of Cities (CCC) interviews
Welcome to the IcARUS Consultative Committee of Cities (CCC) interviews!
The CCC supports and disseminates the implementation of the project by providing practitioners' perspectives and feedback. As such, it plays a key role in strengthening multi-level governance and local partnerships.
We're starting this series of interviews with Gian Guido Nobili, Head of the Urban Security and Crime Prevention Unit of the Emilia-Romagna Region and national coordinator of the Italian Forum for Urban Security FISU.
"Local crime prevention needs more resources and professionalism"
What does the Region of Emilia Romagna hope to bring to the IcARUS project?
Gian Guido Nobili: The Emilia-Romagna Region set up its Urban Security and Crime Prevention Unit in 1994. It was the first time that a department was created in an Italian region specifically to deal with issues of urban safety. One of its first projects was Città Sicure ("safe cities"), which was groundbreaking at the time for its originality and the depth of the scientific and theoretic debate it generated. Through Città Sicure, we explored urban security through the prism of politics and culture. We also planned and conducted research-action activities, as well as projects based on innovative crime prevention methods, training programmes and opportunities to exchange experiences. Furthermore, the project published a periodic journal featuring critical analyses of the activities that were carried out and in-depth coverage of scientific debates on crime prevention. This publication also contributed to disseminating a common terminology on urban security issues. Both Città Sicure and IcARUS were/are broad, in-depth projects that explore a wide range of urban security problems. We thus hope to bring the experience we gained through Città Sicure to our IcARUS partners with a view to provide recommendations to local governments and disseminate information and best practices on innovative approaches to urban security.
What results do you expect from the IcARUS project?
We hope to better understand the social phenomena that are being targeted by local urban security strategies and how crime prevention programmes and other types of interventions and schemes have impacted local communities in different European contexts. Moreover, we are keen to gain more information on phenomena of criminality and on the most suitable strategies to prevent urban violence and decay. In particular, we seek to better understand how urban security strategies affect citizens' fear of crime and feelings of insecurity, how they can effectively prevent crime, and how they can transform relationships between citizens and public institutions.
What is the added value for the Emilia Romagna Region in being part of the Consultative Committee of Cities (CCC)?
The added value resides in being able to compare practices and exchange expertise between international experts, with the aim of formulating recommendations that will be applicable in our regional context.
What other cooperation opportunities can arise from your involvement in this project?
This project could also facilitate inter-institutional co-ordination and exchanges of information and best practices in order to identify elements that are similar in different cultural or local contexts and can be translated into innovative urban security policies here in the Emilia-Romagna Region.
What inspiration have you gained through the project's results to date and network events?
The role of local authorities and community actors, including the private sector, in urban security policies is more frequently recognised now than in the past by international and national organisations. Yet, actual progress does not appear to match the stated goals. While local authorities are best placed to identify the needs and potential of the local population, their legal status and financial resources remain limited. The participation and involvement of residents and community groups is still often restricted to a more or less informal consultation and is hindered by instability and a lack of sustainable resources.
What are the main drawbacks that hinder local crime prevention, in your view?
Local governments too rarely employ real experts, i.e. professional security managers, and safety and security remain by and large an added function given to one or more local civil servants, who thus only deal with these issues a few times a year or only manage the meetings of the local safety and security council. Consequently, the management of safety/security, disorder and crime prevention remains in too many cases a matter for the local police only, as the only professional organisation which is involved in local efforts to strengthen the safety and security of local communities.
We need to provide capable professionals who can successfully deal with local safety/security and crime problems. It is one of the main problems that must be overcome in order to have really innovative urban security policies in Europe.
Multi-agency partnerships to locally fight organised crime
October 2022 – Cities must lead multi-agency partnerships to counter trafficking and organised crime at the local level. This is the main takeaway from the session that Efus organised at the 24-hour online conference of the Global Initiative Against Transnational Organized Crime (#OC24 2022), on 14 October.
Four speakers representing the University of Leeds and the cities of Rotterdam, Amsterdam (Netherlands), and Berlin (Germany)* shared their knowledge and experience of such partnerships.
Effective partnerships are key
Dr Susan Donkin from the University of Leeds summarised the main findings of the review it conducted for IcARUS on 35 years of European urban policies and practices. "Effective partnerships are key, but five conditions must be met," she said. Each partner must 'own' the partnership, i.e., really engage in it. What is expected from each partner must be clearly defined and stated. The differences in terms of power and competences between each partner must be acknowledged. There has to be trust, and information must be shared. The partnership must engage with end-users and beneficiaries, such as local communities and businesses.
Three main approaches
The research showed that three approaches are mainly used to tackle organised crime. The criminal justice approach is based on detecting, prosecuting and convicting criminals. The administrative approach consists in using all the means available to local, regional and national governments to prevent and tackle the misuse of the legal infrastructure such as laundering money through real estate or local businesses. The victim-focused approach relies on international protocols to protect individuals caught up in the web of organised crime.
Identifying what works best locally
"The challenge is to identify which approach is the most effective locally. This requires good coordination between the national and local levels of governance and often the involvement of other stakeholders," she said. It also requires a precise view of each local context to understand which organised groups are operating where, whether the Mafia or motorcycle gangs, for example.
Implementation matters
The review conducted for IcARUS showed that implementation matters and should be properly evaluated. "Multi-agency partnerships and cooperation among the different agencies play a vital part in ensuring efficient implementation." However, one of the most common issues is precisely the difficulty of making such multi-agency partnerships work.
Rotterdam: a 'huge' cocaine problem
Rotterdam is Europe's largest container port. "We have a huge problem with the importation of cocaine. Defending ourselves against this is essential to the integrity of the port, and of the city as a whole because it has a huge impact on local communities," said Marty Staničić, from the City of Rotterdam.
The amount of drug seized in the Port of Rotterdam jumped from 13 tonnes in 2016 to 70 tonnes in 2019, according to a study by Erasmus University Rotterdam. This trade caters to markets in Europe, where consumers have purchasing power and transport networks are well-connected and efficient. What are the effects on the City of Rotterdam? "Drug-related incidents are increasing and often violent. Young locals are being recruited into drug trafficking. Large amounts of drug money find their way into the local economy," she added.
Public-private partnership in Rotterdam
The main challenge for the Port of Rotterdam is that it is jointly operated. Private companies deal with the swift movement of goods, whereas police and the Justice department are primarily concerned with the integrity of the port. The municipality itself also has a role in managing the port.
This is why authorities in Rotterdam have established a wide public-private partnership involving the municipality, the harbour authority, police, the Public Prosecutor, customs, tax authorities, the port company and the trade association for port companies. The municipality coordinates and facilitates the partnership. "The IcARUS project has provided helpful guidelines for the coordination of the partnership," explained Marty Staničić.
Amsterdam: underground banking capital
"International and local criminals know that Amsterdam is one of the best connected cities in Europe, close to the ports of Rotterdam and Antwerp. The city has become a key location for the cocaine trade. It is the base of three quarters of the criminal networks operating in the Netherlands. It also has become the capital of underground banking. Organised crime has been chipping away at the rule of law and the very fabric of society," explained Karin Wilschut from the City of Amsterdam.
She added that the experience on the ground confirms the findings presented by Dr Donkin of the University of Leeds, especially on the importance of wide partnerships involving all the relevant actors. City Hall has "a considerable budget" earmarked for the fight against organised crime. The national government for its part dedicates about €4 billion to this issue.
Joint Strategy Against Drug Crime
Amsterdam pursues a Joint Strategy Against Drug Crime that is signed by the mayor, the chief of police and the chief prosecutor. It comprises five strands: 1) raising awareness on drug trafficking; 2) clearly separating the 'soft' and 'hard' drug markets; 3) offering perspectives to vulnerable young people; 4) combatting corruption and undermining subversive crime; 5) countering corruption and excessive violence.
The strategy is being implemented with a combination of three approaches: measures against violence; the administrative approach, and a more victim-oriented, preventive approach.
Resilient City
Karin Wilschut gave the example of the Resilient City programme launched in 2019. It is a wide-ranging programme that seeks, among other things, to better detect crime throughout the city, including underground money flows. Some 1,800 municipal staff have been trained. The municipality also works in partnership with experts such as lawyers, real estate professionals and accountants. One recent success has been the dismantling of an underground banking network and the seizure of 3,000 kilos of cocaïne and €11 million in a clandestine facility.
Berlin: business-like structures
The third city example was Berlin, with Sybille Wilfer from the Berlin Police Department. She explained that "organised crime in Berlin is largely characterised by business-like structures. They try to influence the media, the judicial system and private businesses, which is very challenging to detect."
The Berlin police cooperates with internal and external agencies and other stakeholders to detect and counter local organised crime groups. "Our strategic focus is on a flexible, holistic, and offender-oriented approach," she said.
The hacking in 2020 of the (now defunct) Encrochat communication network enabled it to "learn about criminal groups and strategies that had not previously attracted attention but make up a significant proportion of organised crime."
Efus' working group on organised crime
Set up in December 2019, Efus' working group on the local roots and impacts of organised crime is led by two member cities, Amsterdam and Rotterdam (Netherlands). Its objectives are to exchange knowledge and practices; promote the development of multi-agency approaches involving
the private sector, civil society organisations and academia, and stimulate cooperation between local/regional and European policy making.

Follow the working group on Efus Network (reserved for Efus members)
The Global Initiative Against Transnational Organized Crime
The Global Initiative was established after a series of high-level, off the record discussions between (mainly but not exclusively) law-enforcement officials from developed and developing countries in New York, in 2011–2012. Based in Geneva (Switzerland), it is an independent civil-society organisation gathering law-enforcement, governance and development practitioners who seek new and innovative strategies and responses to organised crime.

Website of the Global Initiative
The full report on the panel session (minutes and slides) is available (members only) here.
* Dr Susan Donkin, Research Fellow in European Urban Security, University of Leeds; Marty Staničić, Senior Policy Advisor, City of Rotterdam; Karin Wilschut, Strategic Advisor and Deputy Team Manager, City of Amsterdam; and Sybille Wilfer, Detective Chief Inspector and Head of Intelligence Unit, Berlin Police Department.
Key Lessons in Urban Security
Introduction
Building upon the State of the Art Review of the research evidence and accumulated knowledge-base in urban security, the IcARUS project has now co-produced and published a Roadmap for the improvement and definition of novel urban security tools. It sets out strategic principles and broad design requirements to be taken into consideration in defining, designing and implementing new strategies and technologies in urban security. The aim of the Roadmap is to provide a framework to guide the development of new innovative tools to enhance urban security. The primary purpose is to inform the tools developed in the six partner cities within the IcARUS consortium. More broadly, it is intended that the Roadmap will provide a helpful guide to security practitioners and programme designers across Europe. It seeks to complement a human-centred design approach to problem-solving and provides the parameters to guide those decisions in a way that ensures the accumulated knowledge from research and practice informs resultant tools and practices.
A Guiding Framework
The Roadmap draws directly on the key lessons and findings from the State-of-the-Art Review of the accumulated research knowledge base and the Inventory of Tools and Practices. In addition, the Roadmap draws upon established guidance produced by the European Forum for Urban Security and its 2017 Manifesto Security, Democracy and Cities: Co-producing Urban Security Policies. It seeks to consolidate the accumulated learning and to present this in ways that can guide future innovative developments.
The Roadmap is intended to provide a framework that underpins and informs the subsequent IcARUS project activities, notably the design, development and implementation of the tools and practices in the six partner cities - Lisbon, Nice, Riga, Rotterdam, Stuttgart and Turin. The intention is that the tools and strategies will be fashioned and co-designed with relevant stakeholders and representatives of end-users in the targeted city locations where they will be implemented, guided by the principles set out in the Roadmap.
A central finding from the State-of-the-Art Review is that the processes of problem identification, design, context, implementation and evaluation matter greatly. Much of the research evidence base has focused on the questions of 'what works' and the effects on outcome patterns detached from the contexts that shape them and the processes through which they are given life and expression.
Beyond informing the IcARUS project, the Roadmap is also designed to provide an accessible resource to guide and assist urban security practitioners and policy-makers across Europe in fashioning research-informed, innovative strategies. It seeks to provide actionable knowledge with wide-ranging application. However, it comes with the important caveat that all urban security interventions are shaped and their effectiveness influenced by the contexts that sustain them and the implementation processes through which they are enacted and delivered.
The guiding principles and learning set out in the Roadmap are clustered around seven broad thematic pillars. These include: (1) problem identification; (2) partnerships; (3) design and innovation; (4) implementation; (5) outcomes; (6) evaluation; and (7) communication. These have implications across diverse fields of urban security. The Roadmap also provides some parameters for designing tools and practices in relation to the four IcARUS focus areas: preventing juvenile delinquency; preventing radicalisation leading to violent extremism; preventing and reducing trafficking and organised crime; and designing and managing safe public spaces. It concludes with some recommendations specifically for the IcARUS project in implementing and supporting the Roadmap within the consortium.
Ultimately, realising the blend of past learning with future provision and the combination of social and technological innovation in ways that address the safety needs of diverse communities across European cities is the challenge that the IcARUS project is seeking to address. It is intended that as the project develops reflections and feedback the utility and coverage of the Roadmap will be solicited and will inform any subsequent revisions to the Roadmap as a living document.
'Any feedback on the Roadmap in the first instance can be submitted to: adam.crawford@york.ac.uk and will be gratefully received.'
Explore the Web-Interactive IcARUS Research Overview – 35 Years of Accumulated Knowledge in Urban Security policies just a few clicks away
Explore the Web-Interactive IcARUS Research Overview, 35 Years of Accumulated Knowledge in Urban Security policies, just a few clicks away
At the forefront of the research in urban security, IcARUS aims to learn from the experience gained over more than three decades in local urban security policies to rethink and adapt existing tools and methods and help local security actors to anticipate and better respond to security challenges.
The project uses the Design Thinking methodology as its main tool to co-ideate innovative solutions jointly with local communities, based on a review conducted by the project on the past 35 years of local urban security policies and initiatives.
This user-friendly web-interactive tool is designed to help you explore this research through four sections – Trends, Tensions, Lessons, and Knowledge Gaps – covered by the researchers through an analysis of academic literature and interviews with experts. Their research encompassed the project's four work areas: preventing juvenile delinquency; preventing radicalisation leading to violent extremism; preventing and reducing trafficking and organised crime, and designing and managing safe public spaces.
Ready to explore?
Enter: https://www.icarus-innovation.eu/tools-insights/research-overview/
The overview is based on the report The Changing Face of Urban Security: A Review of Accumulated Learning compiled by the University of Leeds (IcARUS deliverable 2.1).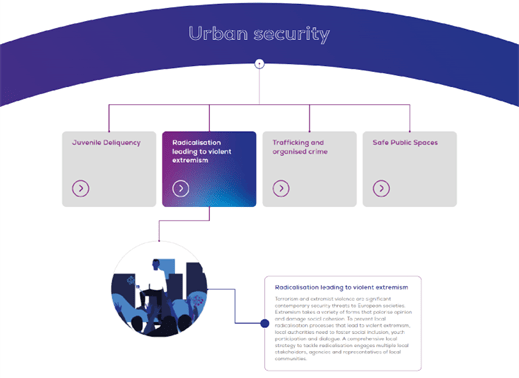 subscribe to be the first to receive icarus news!
Know what we've been up to and the latest on the European urban security frame.