Explore the Web-Interactive IcARUS Research Overview – 35 Years of Accumulated Knowledge in Urban Security policies just a few clicks away
Explore the Web-Interactive IcARUS Research Overview, 35 Years of Accumulated Knowledge in Urban Security policies, just a few clicks away
At the forefront of the research in urban security, IcARUS aims to learn from the experience gained over more than three decades in local urban security policies to rethink and adapt existing tools and methods and help local security actors to anticipate and better respond to security challenges.
The project uses the Design Thinking methodology as its main tool to co-ideate innovative solutions jointly with local communities, based on a review conducted by the project on the past 35 years of local urban security policies and initiatives.
This user-friendly web-interactive tool is designed to help you explore this research through four sections – Trends, Tensions, Lessons, and Knowledge Gaps – covered by the researchers through an analysis of academic literature and interviews with experts. Their research encompassed the project's four work areas: preventing juvenile delinquency; preventing radicalisation leading to violent extremism; preventing and reducing trafficking and organised crime, and designing and managing safe public spaces.
Ready to explore?
Enter: https://www.icarus-innovation.eu/tools-insights/research-overview/
The overview is based on the report The Changing Face of Urban Security: A Review of Accumulated Learning compiled by the University of Leeds (IcARUS deliverable 2.1).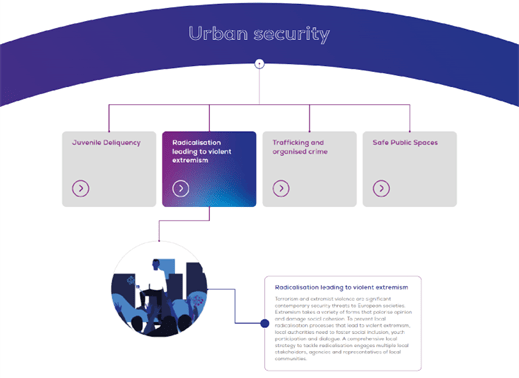 subscribe to be the first to receive icarus news!
Know what we've been up to and the latest on the European urban security frame.